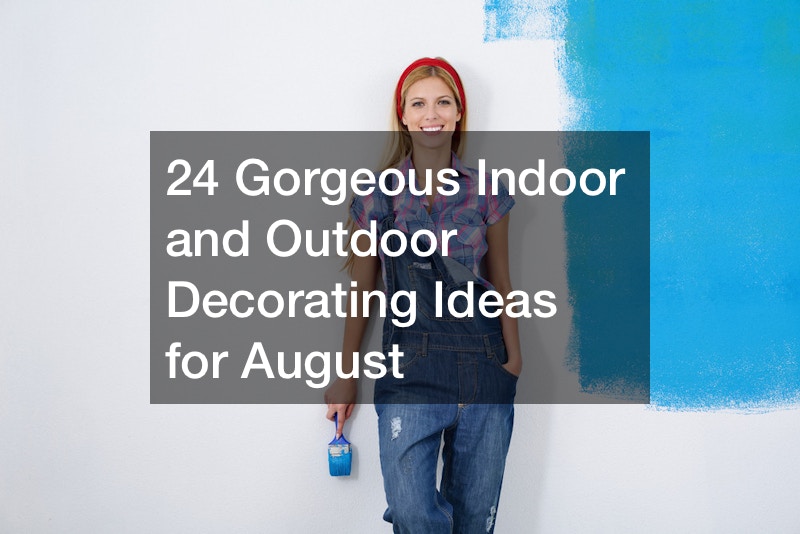 August brings summer around and it's time to start thinking of ways to decorate your home and make it feel as fresh and lovely as the weather. One thing is stopping you, though—you don't have any good decorating ideas for August! Don't worry, that's what this article is going to help you with. Whether you need inspiration so you can come up with your own ideas or want to use ideas that were already well-thought-out, so you don't have to be creative, we've got you covered. Our ideas cover the interior as well as the exterior, so you can change everything about your home!
This list of the best decorating ideas for August is in no particular order, we don't have favorites, so you can just pick and choose the ones you like most and use them to make your own personalized list that will make your home the envy of the neighborhood this summer.
1. Incorporate Retro Metal Chairs
We kick off this list of decorating ideas for August with something pretty simple—metal chairs. Metal furniture tends to be relatively affordable, so this is an inexpensive way of getting rid of old fall decorating ideas and making your home look awesome this summer. You can also get them in various colors (or paint them the colors you like), so sticking to a theme is fairly easy. Add these chairs to your front porch or lawn under a tree and marvel at how it complements the rest of your garden.
2. Change Your Bedding
The weather will be changing and you'll have to adjust your bedding accordingly unless you want to be stuck kicking the covers off you while you sleep and waking up in a sweat. Switch to a colorful summer duvet cover that will improve your sleeping while also making your room look fresh and lively. Changing your duvet cover can transform your bedroom quite effectively, so choose a color and design that encompasses the feeling you want in the room.
3. Soften Textures
A great way to adjust to the warmer temperatures while you're improving how your home looks is by transitioning from heavy wool to lighter linen ahead of time. This is one of the more practical decorating ideas for August, since you'll be improving your own quality of life as well as the decor in your house. You can also soften textures when it comes to your potted plants outside. Use woven baskets and pots that look like light wood instead of dark, ceramic ones.
4. Use Practical Items
You can use items that you're going to use regularly or often as decor. That way, you don't have to store them away to gather dust and it will be difficult to find them when the time comes to whip them out. Use items like books and blankets as decorations. You can put the books you read on your coffee table or somewhere where they will attract visitors' attention. Fold blankets and use them on sofas. You can also hang them over the back of your chairs and add some color to your furniture.
5. Make the Most of Your Porch
Your porch or patio offers a really nice way of decorating your home by bringing interior items outside (make sure they can endure the elements, though!). You can turn your porch into a summer gathering space where you can cool off in the evening breeze every day. To add some interest to the area, make a walkway of decorative stamped concrete. This will really enhance how your yard looks.
6. Use Colorful Pillows Everywhere
Are you looking for decorating ideas for August to spice up your living areas? Then opt for colorful pillows. Buy throw pillows and decorative pillows in your favorite colors and shapes and just put them wherever you feel like it. Of course, the placements should make sense. No one wants a pillow on the dining table, silly! Put them on sofas, armchairs, your porch swing, and on those metal chairs we mentioned earlier.
7. Add Nature-Inspired Art
Is there a better way to improve how your home looks and feels than adding art? Surely not (apart from the ideas we're sharing with you here, of course)! A great way to give your home that 'summer-loving' feeling is by incorporating nature-inspired art. Whether you want to put up a big painting of beautiful flowers and waterfalls, place colorful little animal statues, or even have lush, unnaturally colored plastic plants (think pink leafy plants and rainbow-colored roses) all over your home, you can use art to transform your home.
8. Use Rugs
Rugs are such an easy way to bring color into your home, we just had to include them on this decorating ideas for August list. You can have bright, beautiful, and stunning outdoor rugs on your porch or patio and patterned indoor rugs that make your rooms look like they're summer havens. Go for light rugs rather than thick and warm ones, even if they feel better on bare feet.
9. Add Outdoor Lights
Imagine you're sitting on a cozy retro metal chair in your garden. The crickets are singing their favorite songs, the summer breeze is caressing your cheek, and the lovely lights around you make your garden look like the kind of place Tinkerbell would want to hang out. Now stop imagining and get some landscape lighting installations started in your yard! Lighting can create different kinds of moods, so choose lights that can help you achieve the ambiance you want in your yard. You can put lights on (and in) trees, string them on walls, and even attach fairy lights to your gutters if you want to.
10. Refresh Your Home With Summer Scents
Why not bring the summer into your house via smell? You can refresh your interior with summer scents and make your home a wonderful haven that encourages relaxation. Whether you want to do this by adding flower bouquets or by using scented candles and diffusers, this is one of the best decorating ideas for August because a space's smell can make it inviting or unpleasant.
11. Paint Your Front Door
Your front door is the first and last thing that visitors see. What do you want them to think? Do you want them to have no thoughts about your door, or do you want them to admire it and want to have one like it at their home? Adding a fresh layer of paint to your door can make it look brand new. Make sure the color you choose complements the rest of your home by being in the same color palette or being in bright contrast to existing colors. While you're at it, head to a sign shop and get your home's address to put on the wall next to the door. That way, no one can miss your house!
12. Add Summer Colors
This is generally speaking, but you should add more summer colors to your home. One of the fastest and most effective ways to do so is through interior painting. You can bring in a pop of color with nothing more than your imagination, paint, and a paintbrush. Choose colors that symbolize summer, like powder blue, lavender, orange, bright green, and pale yellow.
13. Let the Light In
What better way to prepare for hot summer days than by letting the bright summer light into your home? This is one of our favorite decorating ideas for August simply because adding light to any space can completely transform it. Open the doors and windows, pull back those curtains, and take away any items that can obstruct the light—enjoy the sun's stretching fingers bringing warmth into your home (the open windows will let the wind cool you off).
14. Use Coastal-Inspired Accents
If there is one decor theme that encompasses summer, it's the coastal or nautical theme. When you see this kind of decor in a room, you can't help but imagine crashing waves and warm sand. Sometimes, you can even smell the salt in the air. Give your home this kind of feeling outside and inside by using beach-related decorations in white, blue, and yellow colors.
15. Create a Summer Reading Nook
There are few things as relaxing as settling in your favorite armchair with a book and a tall glass of icy refreshment. Why not create such a space for yourself on your porch? That way, you can enjoy the fresh summer air and cool breeze while losing yourself in the worlds in your books. Add a few flower boxes with pretty flowers and you're set with a beautiful area that looks amazing and feels like a little slice of heaven.
16. Have an Outdoor Eating Area
Outdoor eating areas are fantastic, especially if you like to host summer parties and spend time outside with your loved ones. If you don't already have a good spot for an outdoor eating area, ask a local landscape design company to help you create the perfect area for this purpose. Picnics don't have to be the only time you eat outside!
17. Add Succulents and Greenery
When you think about summer, you think about green plants waving in the wind, right? Well, most people do, anyway. Adding succulents and evergreen greenery to your yard is one of the best decorating ideas for August if you have a green thumb and enjoy gardening. Choose colorful flowering succulents and plants and grab your spade!
18. Update Old Furniture
You can use a tired old chair and side table and add character to your porch. Give this furniture you would have thrown away a little bit of TLC, make it pop with new color, and put it on your porch for relaxing and cozy outdoor moments. This is one of the most affordable ideas on our list!
19. Create a Statement Wall
A statement wall is a wonderful way to bring summer colors into your home. Find colorful art you like, paint one wall in your living room a color that matches or contrasts it, and voila—you have a statement wall!
20. Focus On Your Bedroom
Your bedroom is meant to be your private space where you can completely let your hair down and unwind. That's why we recommend that you focus on it when thinking about decorating ideas for August. Add colorful bedding and pillows that create a soothing atmosphere so you can sleep in peace.
21. Decorate with Summer Flowers
Summer flowers are the best representatives of summer—that's when they bloom, after all. So what better way to bring summer into your home than by putting these flowers everywhere? Use pretty glassware for the flowers and brighten up any room!
22. Use Colorful Outdoor Fabrics
Outdoor fabrics can easily brighten up your backyard (or front yard). When choosing outdoor rugs, chairs, and poufs, make sure you select colors that will make your space feel like it's a summer haven.
23. Create a Cozy Backyard Retreat
A backyard retreat under a gazebo or trees filled with outdoor furniture and accessories is the ultimate way to embrace summer. Work with a landscaping company to create a fire pit or similar area for you and your loved ones to make the most of August's weather.
24. Get a Plunge Pool
Plunge pools are far more affordable than their bigger counterparts and still offer a nice way of relaxing when the sun's getting too eager to heat up your backyard. It's ideal for splashing and lounging around, with less water use than traditional pools.
Bonus Tip: Declutter
Decorating your home and yard can be a lot of fun and is a nice way to prepare for summer, but before you do that, simplify your life and declutter your property. It's easier to decorate a clean, neat place than one with lots of things standing or lying around.
So, there you have it—all the decorating ideas for August you could need this season to transform your home inside and outside. Some of the ideas may ask more hard work and dedication from you than others, but they're all well worth the time and effort you'll spend. What are you waiting for? Get started so you have a stunning home to show off soon!