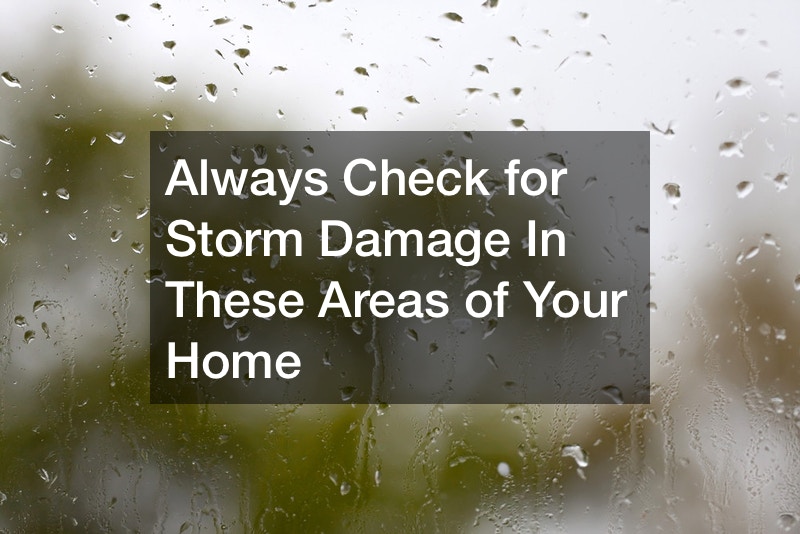 Every year, storms cost homeowners thousands of dollars in damage. Every region of the United States is in the path of some type of storm. Whether it is nor'easters on the east coast, hurricanes in the southern states, tornadoes in the Midwest, snowstorms, or hailstorms, there is always a storm on the way somewhere. After any storm, homeowners should make it a priority to check for storm damage.
In some cases, the storm damage is obvious, while in other cases, it's not as obvious and takes a little detective work. These are the most important areas of your home to check for storm damage.
Start Outside
Immediately following the storm, when it is safe to go outside, take a walk around your property and look for any visible damage. If a tree has fallen and blocked your driveway or is hanging precariously on power lines, don't try to manage it yourself. Call for emergency tree removal services. A surprising number of storm-related fatalities happen in the aftermath of the storm when people try to manage the cleanup on their own.
Trees are much heavier than they look. If tree limbs are near power lines, you should be extra cautious about keeping everyone away from the tree. Let the professionals handle the removal. It is a safer option.
Look for Debris
Check for storm damage in the yard. Fencing and other debris can get scattered around the yard, giving you a clue of where else to check for storm damage. Inspect any outdoor buildings like your shed to see if it has been damaged. Make a note of any damage that needs to be immediately addressed, like broken gates or fencing, especially if you have pets in the home that use the yard.
Check for storm damage to your garage doors. Garage doors can fall victim to high winds, hail, and even heavy snow and rain. Garage door repair may be necessary if you find that the storm has damaged your garage door. Dents from hail or other damage can seriously reduce your garage doors' function and the security they provide. Repairs will ensure that your garage stays secure and fully functional.
Inspect the Foundation
Most people look up at their roof to check for storm damage, but quite a bit of damage can also happen at the base of your house. Water accumulation can cause foundation damage. Check both the exterior and the interior of your foundation for cracks.
Cracks in your foundation from water accumulation will only worsen if they are not addressed early on. Each time you check for storm damage, you should be sure to check your foundation. Often the damage will go unnoticed, and the problem will continue to get worse.
If you typically have problems with water building up around your foundation, you should hire a foundation specialist that can locate the problem and do the repairs to keep it from happening in the future. Some foundation problems have nothing to do with the base of your home, but rather with your gutter system. Diverting water away from your foundation will help you to reduce the risk of storm damage in the future.
Check for Storm Damage In Your Basement
A flooded basement is not uncommon after a bad storm, but it is something that you need to address right away. It does not take mold long to grow in a moist environment. Mold is not only a property damage risk but is a serious health risk.
Check for storm damage in your basement and address any problems as soon as possible. Call in water damage restoration services if needed. The sooner you address the problem, the less damage you will have to contend with.
It can be devastating to find your basement full of water. Once the problem has been solved, you may want to consider some home remodeling for your basement, including a basement waterproofing service. Basement waterproofing is a great way to prevent future issues. It is also a great way to make better use of your basement. Once you know your basement will stay dry, you can use the space for a wide range of functions.
Check Your Exterior Pipes
Hose spigots, waste pipes that come into the home and are slightly above the ground, and other pipework can be damaged by a storm. Check your exterior plumbing for storm damage. Call a plumber if you find any storm damage and have the plumbing repair done quickly.
Damaged pipes can mean the inability to have running water. It is important that you address the issue as soon as you can get someone out to fix it. In especially cold regions, it's common for pipes to freeze and burst, especially those that are not properly insulated. A broken pipe can cause a great deal of damage to flooring and more. If you notice there is a small crack, break or leak where the pipe enters your home, turn the water supply off at the main and wait for the plumber before you turn it back on.
Check Your Roof
Your roof is exposed to a wide range of weather threats every year, including:
Hail damage. In 2019 alone, about $21 million in claims were paid out for roof damage sustained during hail storms.
High winds. Your roof is at risk even on a bright sunny day if there are high winds. About $26 million in claims were paid out for roof damages sustained because of high winds (this figure includes hurricane damage)
Rain and snow. Rain, snow, and ice are all culprits that can cause a great deal of roof damage. About $20 million was paid out for roof damage claims that originated during a weather event that included heavy amounts of rain, snow, or ice.
When you check for storm damage on your roof, you can start by looking around your yard and driveway for evidence of roof debris. If you find shingles on the ground, you should call a roofing company for a complete roof inspection.
Check for storm damage to your roof by climbing up in your attic. If you notice any wet spots, it can be an indicator that your roof was damaged. While you are gauging the damage to your roof, don't' forget to check your gutters.
It is easier to check for storm damage from the ground with a peaked roof than for a flat roof. You have to get up on a the roof to see if you need flat roof repair. With a peaked roof, a visual inspection from the ground can be really telling. However, if you do not have a complete view of your roof and the shingles, call a roofing company to come and do an inspection. It is always better to be safe than sorry when you want to check for storm damage to your roof.
Your roof and your gutter system play a vital role in protecting your home. If your gutters have a leaf guard system in place, be sure that you check to make sure it was not damaged. Leaf guards are especially vulnerable to hail damage. Gutter damage is one of the most common types of roof damage after a storm. The heavy amounts of water flowing through combined with the high winds can seriously damage your gutters. Hail can dent up the leaf guards and cause your gutters to clog.
Gutter replacement service is often the best choice to deal with storm damage. For minor damage, repairs may be an option. The best way to decide whether you need repairs or a full replacement is to let the experts handle it.
According to the Bureau of Labor Statistics,
Roofing is the fourth most dangerous line of work. It is not something you want to handle on your own because there is a tremendous risk of injury.
Safety While You Check for Storm Damage
As mentioned earlier, more people are injured and killed during the aftermath of a storm than they are during the storm. It can be tempting to go outside and check for storm damage when you hear something hitting the house or see something fly by the window. It can be hard to sit back and do nothing, but it is the safest option until the storm is over.
Addressing storm damage as it is occurring puts you at risk of bodily harm. Staying away from the windows and indoors during the storm is the safest place to be. There is nothing you can do to protect your property after the storm has begun.
What To Do When You Detect Storm Damage
If you check for storm damage and find your home needs repair, it is very likely that your neighbors also have storm damage. You might have a wait before repair experts can get to you. There are a few things that you can do to protect your property from further damage, including:
Place tarps over damaged areas to keep the elements from causing more damage.
Clean up any debris that you can remove safely.
Shut the water off if pipes are damaged.
Turn the main power breaker off if a power line is down.
Taking steps to preserve your property and minimize damage is important as long as you can do it safely. Taking risks is not worth it. For example, if shingles blew off your garage roof, place a tarp and secure it. If shingles blew off the roof to your house, which is not easy to reach, unfortunately, you may have to leave it and deal with the aftermath of the damage. You can replace everything that you own, but you cannot replace a lost life. Avoid dangerous situations.
Basics of Storm Preparation
There are some steps you can take before a storm hits that may help reduce the risk of damage to your property. Have any overhanging limbs removed from your property. Tree limbs that hang over electric wires or over your roof are a tremendous hazard. Being proactive year-round can help to reduce the risk of storm damage.
Bring in any items that can become projectiles during a storm. Yard furniture, planters, and more can all damage your home during a storm that involves heavy winds.
If you live in the Northern part of the country, make sure all of your pipes are insulated. Heat wrap and other insulation can help to protect pipes during the coldest temperatures.
Have a yearly roof inspection. During the inspection, the roofer will make a note of any maintenance that needs to be done. They will also make a note of any missing or loose shingles to address before the storm season.
You should always have a few days of water and food on hand stashed in the basement or the garage just in case of a widespread power outage. Check your rations at least twice a year and replenish as necessary. Keep a bag that is easy to reach filled with things like flashlights, emergency candles, wireless chargers, and other items you can use in case of a power outage or other emergency.
Finally, follow the directions of the authorities. If you are told to evacuate, evacuate. If you are told to stay off the roads, stay off the roads. Check for storm damage after everything is over.